5KW 48V Growatt Hybrid Off-Grid Inverter
---
{{item.currency}} {{pricing}}
---
---
{{item.currency}} {{pricing}} {{item.currency}} {{item.normalPrice}}
---
{{item.currency}} {{pricing}} - Out of Stock

5kW Growatt SPF 5000TL HVM-48 Inverter.
| | |
| --- | --- |
| Rated Power: | 5000W |
| Maximum PV Array Power: | 4500W |
| Solar Charge Current: | 80A |
| Open Circuit Voltage | 145VDC |
| Charge Current: | 60A |
Growatt, the NO.1 Chinese Residential Solar Inverter Supplier; Received Guangdong Famous Brand Award.
Global Top 10 Solar Inverter Supplier; Annual Global Shipment Exceeded 3.5GW; Global Total Shipment Exceeded 1000,000 Inverter Solutions.
Growatt inverters is a new energy enterprise dedicated to the R&D and manufacturing of PV inverters including on-grid, off-grid and storage inverters, and user side smart energy management solutions as well. The power capacity of Growatt on-grid inverters ranges from 1 kW to 100 kW, meanwhile its off-grid and storage inverters cover a power range from 1 kW to 630 kW. Growatt inverters are extensively used worldwide for applications in residential, commercial, PV poverty alleviation, utility-scale scenarios as well as other storage power station projects.

Since its foundation in 2010, Growatt inverters has established branch offices one after another in Germany, US, UK, Australia, Thailand, India, Netherlands, etc in order to better serve the customers across the globe. Growatt always sticks to the R&D investment and technology innovation, and provides customers with premium products and services through its core inverter technology, rigorous quality control and continuous improvement of customer service. By end of September 2018, Growatt has shipped over 1.2 million inverters to over 100 countries and regions across the globe, growing into a Global Top 10 Inverter Brand and becoming the No.1 Chinese Residential PV Inverter Brand.

Growatt inverters will always insist on leading technology and put quality in the first place with its people-oriented and client-oriented spirit. And Growatt inverers will continue to integrate global resources, promote technology innovation and strive to lead in providing user side smart energy solutions across the world

Growatt SPF series off grid solar inverter is integrated with a MPPT solar charge controller, a high frequency pure sine wave inverter and a UPS function module in one machine, which is perfect for off grid backup power and self-consumption applications. The transformer less design provides reliable power conversion in compact size. Besides, it's worry-free to start up motor-type loads such as motors, water pumps, and compressors as well as the common home device. Growatt SPF 5000TL HVM 5kW can be wired in parallel to increase the output capacity.
| | |
| --- | --- |
| Rated Power: | 5000VA/ 5000W |
| Parallel Capability | Yes, 6 units |
| AC Voltage Regulation (Battery Mode): | 230VAC +_5% @ 50/60Hz |
| Surge Power: | 10000VA |
| Efficiency (Peak): | 93% |
| Waveform: | Pure sine wave |
| Transfer Time: | 10 ms (For Personal Computers); 20 ms (For Home Appliances) |
| | |
| --- | --- |
| Maximum PV Array Power: | 4500W |
| MPPT Range @ Operating Voltage: | 60VDC-115VDC |
| Maximum PV Array Open Circuit Voltage: | 145VDC |
| Maximum Solar Charge Current: | 80A |
| | |
| --- | --- |
| Charge Current: | 60A |
| AC Input Voltage: | 230 VAC |
| Selectable Voltage Range: | 50Hz/60Hz (Auto sensing) |
| Frequency Range: | 170-280 VAC (For Personal Computers): 90-280 VAC (For Home Appliances) |
| | |
| --- | --- |
| Dimension (DW/H): | 130 x 350 x 455mm |
| Net Weight: | 14.5kg |
| | |
| --- | --- |
| Humidity: | 5% to 95% Relative Humidity(Non-condensing) |
| Operating Temperature: | 0°C - 55°C |
| Storage Temperature: | 15°C - 60°C |
Growatt
-
5KW 48V Growatt Hybrid Off-Grid Inverter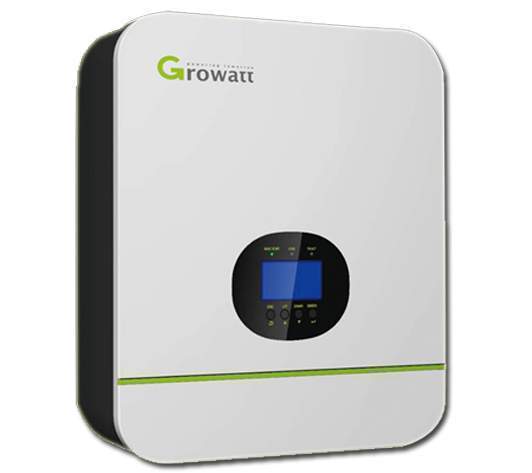 KW 48V Growatt Hybrid Off-Grid Inverter south africa, Growatt is a new energy enterprise dedicated to the R&D and manufacturing of PV inverters including on-grid, off-grid and storage inverters, and user side smart energy management solutions as well. The power capacity of Growatt on-grid inverters ranges from 1 kW to 100 kW, meanwhile its off-grid and storage inverters cover a power range from 1 kW to 630 kW. Growatt inverters are extensively used worldwide for applications in residential, commercial, PV poverty alleviation, utility-scale scenarios as well as other storage power station projects. Since 5KW 48V Growatt foundation in 2010, Growatt has established branch offices one after another in South africa Germany, US, UK, Australia, Thailand, India, Netherlands, etc in order to better serve the customers across the globe. Growatt always sticks to the R&D investment and technology innovation, and provides customers with premium products and services through its core inverter technology, rigorous quality control and continuous improvement of customer service. By end of September 2018, Growatt has shipped over 1.2 million inverters to over 100 countries and regions across the globe, growing into a Global Top 10 Inverter Brand and becoming the No.1 Chinese Residential PV Inverter Brand. 5KW 48V Growatt will always insist on leading technology and put quality in the first place with its people-oriented and client-oriented spirit. And 5KW 48V Growatt will continue to integrate global resources, promote technology innovation and strive to lead in providing user side smart energy solutions across the world. 5kw Growatt SPF series off grid solar inverter is integrated with a MPPT solar charge controller, a high 5KW 48V Growatt Hybrid Off-Grid Inverter frequency pure sine wave inverter and a UPS function module in one machine, which is perfect for off grid backup power and self-consumption applications. The transformer less design provides reliable power conversion in co
Product number:
Price: 1
12350.00
Condition:
new