Goodwe ES 4.6kW Hybrid Inverter
---
{{item.currency}} {{pricing}}
---
---
{{item.currency}} {{pricing}} {{item.currency}} {{item.normalPrice}}
---
{{item.currency}} {{pricing}} - Out of Stock

Goodwe ES 4.6kW Hybrid Inverter (4.6KW Backup), South Africa
Max. Apparent Power from Utility Grid(VA)
9200W
Max. DC Input Power (W)
6500W
Nominal Battery Voltage (V)
48V
Max. DC Input Voltage (V)
580V
Battery Type
Li-Ion or Lead-acid

*1
Goodwe ES 4.6kW Hybrid Inverter, 4.6KW Backup for sale in South Africa
4.6Kw Goodwe ES series Full Hybrid inverter is best suited to grid-connected PV systems: enhancing self-consumption and providing 4.6kW backup power to essential loads in the event of loss of grid. The Goodwe ES series bi-directional energy storage inverter can be used for both on-grid and off-grid PV systems. During the day, the PV array generates electricity which can be provided either to the loads, fed into the grid or charge the battery, depending on the economics and set-up. The electricity stored can be released when the loads require it during the night. Additionally, the power grid can also charge the storage devices via the inverter.
It can intelligently control the flow of energy.

Both MPPT charge controller and inverter are fully integrated

Intelligent battery management function.

Capable of being grid-interactive or grid-independent.

Compatible with various Li-Ion battery types.

2 x MPPT inputs with a Max of 6500Wp.

100A Battery charger.

IP65 dust-proof and water-proof rating.

45°C full-load output.

Monitoring of inverters is free via computers or mobile phones and extremely easy to use.

Fanless, low-noise design.

When using Lead-Acid battery technology with the ES/ EM Inverter range, Goodwe does not take any responsibility if the system performs below expectati

on
Solar Panel Energy are a distributing company that does not store all products on our website.
Summary
As a product intended for the new installation of PV storage generators, EM/ES series are aimed for boosting self-consumption in areas with high electrical rate and a relatively low FIT. For areas and regions where peak shaving can be applied and feed-in-power is restricted, this system would be a good fit.
Functional Introduction
Increasing Self-Consumption: During the day, the electricity from the PV array is used to optimize self-consumption. The excess is used to recharge the batteries and can be released to the loads at night. The highest proportion of self use is up to 95%.
Peak Shaving: By setting the charging and discharging time, the battery can be charged using the lower electrical rate and discharged to loads when there is a high electrical rate.
Power Supply for Important Loads: Connected to the backup side of the inverter, loads such as refrigerators, routers, lamps, computers and other small appliances can be powered. When grid fails the system automatically switches to back-up mode within milliseconds.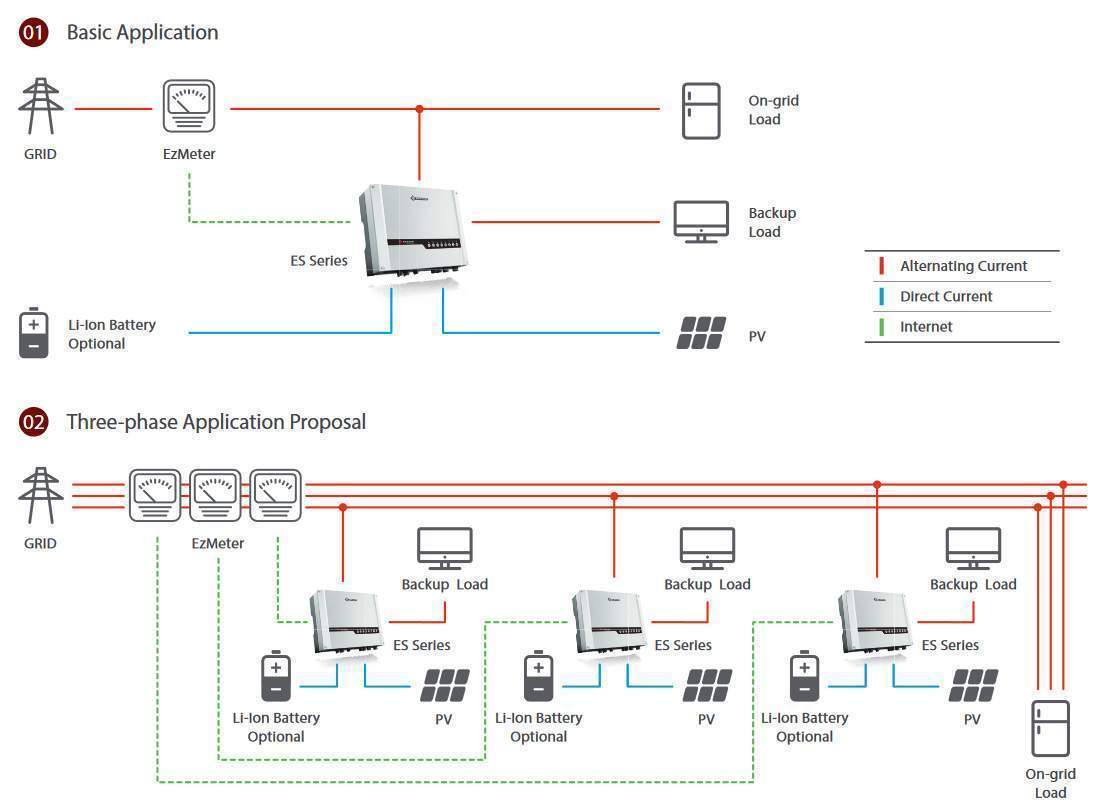 Battery Type
Li-Ion or Lead-acid*1
Nominal Battery Voltage (V)
48V
Max. Charging Voltage (V)
≤60 (Configurable)
Max. Charging Current (A)*1
100A
Max. Discharging Current (A)

*1

100A
Battery Capacity (Ah)

*2

50~2000Ah
Charging Strategy for Li-Ion Batter
Self-adaption to BMS
Max. DC Input Power (W)
6500W
Max. DC Input Voltage (V)
580V
MPPT Range (V)
125~550V
Start-up Voltage (V)

*3

150V
MPPT Range for Full Load (V)
170~500V
Nominal DC Input Voltage (V)
360V
Max. Input Current (A)
11/11
Max. Short Current (A)
13.8/13.8A
No. of MPP Trackers
2
No. of Strings per MPP Tracker
1
Nominal Apparent Power Output to Utility Grid (VA)
4600VA
Max. Apparent Power Output to Utility Grid (VA)

*4

5100VA
Max. Apparent Power from Utility Grid(VA)
9200VA
Nominal Output Voltage (V)
230V
Nominal Output Freqency (Hz)
50/60HAZ
Max. AC Current Output to Utility Grid (A)
24.5*5A
Max. AC Current From Utility Grid (A)
40A
Output Power Factor
~1(Adjustable from 0.8 leading to 0.8 lagging)
Output THDi (@Nominal Output)
<3%
Max. Output Apparent Power (VA)
4600VA
Peak Output Apparent Power (VA)

*6

6900,10sec
Max. Output Current (A)
20A
Nominal Output Voltage (V)
230 (±2%)V
Nominal Output Freqency (Hz)
50/60 (±0.2%)Hz
Output THDv (@Linear Load)
<3%
| | |
| --- | --- |
| Max. Efficiency | 97.60% |
| Max. Battery to Load Efficiency | 94.00% |
| Euro Efficiency | 97.00% |
| | |
| --- | --- |
| Anti-islanding Protection | Integrated |
| PV String Input Reverse Polarity Protection | Integrated |
| Insulation Resistor Detection | Integrated |
| Residual Current Monitoring Unit | Integrated |
| Output Over Current Protection | Integrated |
| Output Short Protection | Integrated |
| Output Over Voltage Protection | Integrated |
Operating Temperature Range (°C)
-25~60
Relative Humidity
0~95%
Operating Altitude (m)
≤4000
Cooling
Natural Convection
Noise (dB)
<25
User Interface
LED & APP
Communication with BMS

*7

RS485; CAN
Communication with Meter
RS485
Communicaiton with Portal
Wi-Fi
Weight (kg)
30kg
Size (Width*Height*Depth mm)
516*440*184mm
Mounting
Wall Bracket
Protection Degree
IP65
Standby Self Consumption (W)
<13W
Topology
High Frequency Isolation
CERTIFICATIONS & STANDARDS
| | |
| --- | --- |
| Grid Regulation | VDE-AR-N 4105, VDE0126-1-1, AS4777.2, G83/2, CEI 0-21, NRS 097-2-1, EN50438 |
| Safety Regulation | IEC/EN62109-1&2, IEC62040-1 |
| EMC | EN61000-6-1, EN61000-6-2, EN61000-6-3, EN61000-6-4, EN 61000-4-16, EN 61000-4-18, EN 61000-4-29 |
*1

: Lead-acid battery use refers to Approved Battery Options Statement. The actual charge and discharge current also depends on the battery.


*2

: Under off-grid mode, then battery capacity should be more than 100Ah.


*

3

: When there is no battery connected, inverter starts feeding in only if string voltage is higher than 200V.


*4

: 4600 for VDE 0126-1-1 &VDE-AR-N4105, 4950 for AS4777.2(GW5048D-ES); 4050 for CEI 0-21(GW3648D-ES).


*5

: 21.7A for AS4777.2


*6

: Can be reached only if PV and battery power is enough.


*7

: The standard configuration is CAN.