400W Seraphim Mono PERC Solar Panel
---
{{item.currency}}
{{pricing}}
---
---
{{item.currency}}
{{pricing}}
{{item.currency}} {{item.normalPrice}}
---
{{item.currency}} {{pricing}} - Out of Stock

Sku:400SP
Brand: Seraphim
Name:400W Seraphim Mono PERC Solar Panel
Rated Maximum Power: 400Wp
Solar Cell Type: Mono Perc
Module Efficiency at STC(ηm): 19.81%
Open Circuit Voltage(Voc) 49.1V
Short Circuit Current (Isc): 10.10A
400W Seraphim solar panels is listed as Tier 1 solar module maker by BNEF.

We are proud suppliers of top quality 400W Seraphim solar panels in South Africa
Seraphim's Blade™ Series solar module boasts two identical parts, which are composed of cells that are half the size of ordinary solar cells. By cutting cells into halves, these smaller currents will help reduce "Cell To Module" loss, which means higher output. Compared to mainstream standard modules, the Blade™ series module has lower current and series resistance which helps minimize mismatch loss, internal power loss, and shadow effect, etc
Seraphim, a world-class solar product manufacturer.
As a world-class solar products manufacturer, Seraphim specialize in research, development, production, and sales of solar PV products. Since its foundation in 2011, Seraphim has accomplished significant achievements which outpaced most of our main competitors in terms of production capacity and in the number of innovative designs. Seraphim uphold its belief that innovation is the key driver behind advancement by pursuing new technologies and higher efficiencies. Seraphim are accredited as Batch I Smart Manufacturing Plant by Jiangsu Government, the Witness Laboratory Accreditation Certificate (WMTC) by CSA and TMP Laboratory Certificate by TUV SUD.
These are examples of Seraphim's endeavors and achievements in innovation within the industry. We are proud to be a leader in the PV industry in terms of technological innovations. Seraphim are listed as Tier 1 solar module maker by BNEF. Currently, Seraphim has a global production capacity of 5GW. Seraphim serve worldwide customers with high-quality products and professional services. So far more than 6GW Seraphim's products have been widely applied in over 40 countries.
| | |
| --- | --- |
| Module Type: | SRP-400-BMA / SRP-400-BMA-HV |
| Maximum Power at STC (Pmp): | 400W |
| Open Circuit Voltage (Voc): | 49.1V |
| Short Circuit Current (Isc): | 10.10A |
| Maximum Power Voltage (Vmp) | 41.6V |
| Maximum Power Current (Imp): | 9.62A |
| Module Efficiency at STC(ηm) | 19.81 |
| Power Tolerance: | (0,+4.99) |
| Maximum System Voltage | 1000 VDC / 1500 VDC |
| Maximum Series Fuse Rating: | Maximum Series Fuse Rating: 20A |
Mechanical Specifications
| | |
| --- | --- |
| External Dimensions: | 2015 x 1002 x 40mm |
| Weight: | 23.0kg |
| Solar Cells: | PERC Monocrystalline 158.75 × 79.375 mm(144pcs) |
| Front Glass: | 3.2 mm AR coating tempered glass, low iron |
| Frame: | Anodized aluminium alloy |
| Junction Box | IP68, 3 diodes |
| Output Cable: | 4.0 mm²,Portrait:255mm(+)/355mm(-);Landscape:1200mm |
| Connector: | Connector: MC4 Compatible |
| Mechanical Load: | 5400 Pa |
Seraphim's Blade™ – PERC Solar Cells
Seraphim's Blade™ Series solar module boasts two identical parts, which are composed of cells that are half the size of ordinary solar cells. By cutting cells into halves, these smaller currents will help reduce "Cell To Module" loss, which means higher output.
In the meantime, the overall space between cells is doubled, and more light will be transferred into power through multiple reflections.
Compared to mainstream standard modules, the Blade™ series module has lower current and series resistance which helps minimize mismatch loss, internal power loss, and shadow effect, etc. Once one cell has EL defect or appearance defect, such as black edge or V sharp. After cutting, one intact half can be reuse
400W Seraphim PERC solar cell technology is more straightforward from the standard solar cells.
Seraphim PERC solar cell technology is also more cost-effective as it allows energy output to be maximized due to more efficient energy conversion.
The Difference Between Standard solar cells and 400W Seraphim PERC Solar Cells. - Read More!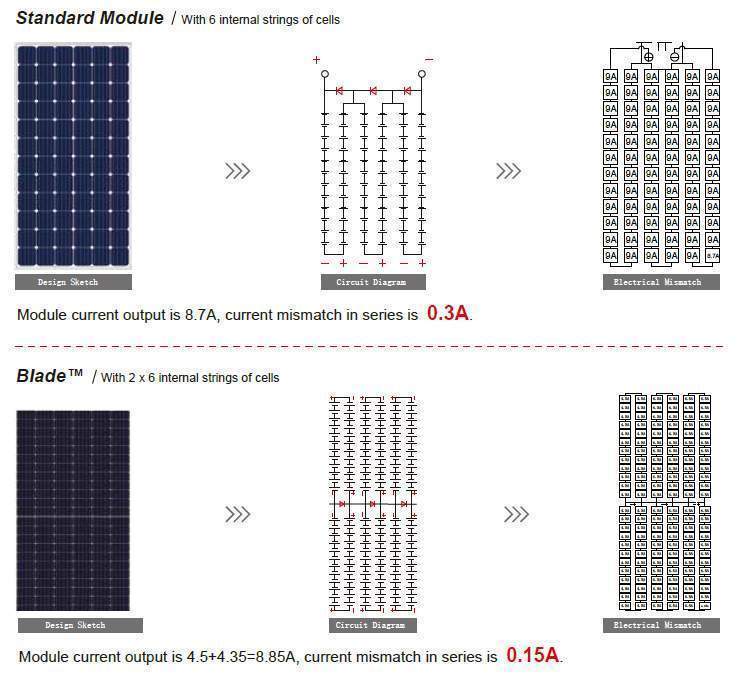 .